Chop Suey Chicken Stir Fry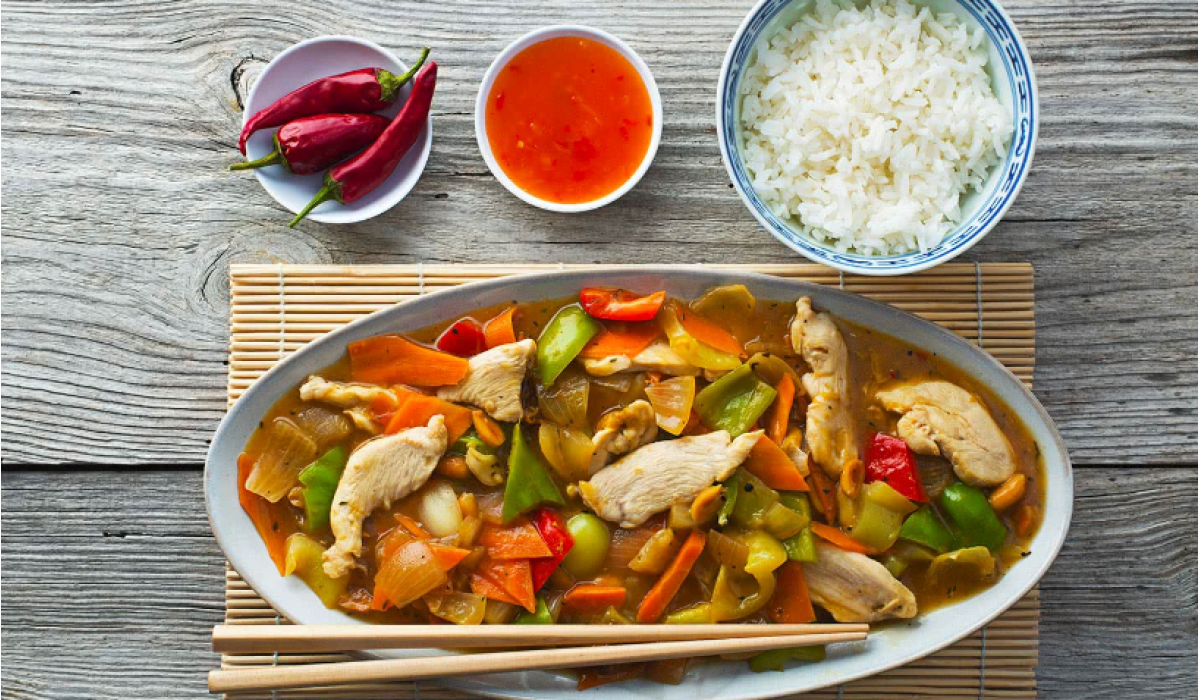 180g (6oz ) chicken breast , thinly sliced
1/2 tsp baking soda
SAUCE
1 tbsp cornflour / corn starch
1 1/2 tbsp light soy sauce , or all purpose soy(Note 3)
1 tbsp Oyster Sauce (Note 4)
1 tbsp Chinese Cooking Wine OR Mirin (Note 5)
1/2 tsp sesame oil (optional)
Dash of white pepper (or black)
3/4 cup (185 ml) water
STIR FRY
1 1/2 tbsp vegetable oil (or other cooking oil)
2 garlic cloves , finely chopped
1/2 onion , sliced (white, brown, yellow)
5 - 6 stems choy sum (or spinach)
Vegetables of our choice (carrot, red pepper, broccoli)
1/2 cup sliced mushrooms (shiitake is authentic, but any will do)
1 cup bean sprouts
For serving
Cooked jasmine rice
Prawn crackers
Sweet & sour sauce
INSTRUCTIONS
1. Place chicken in a bowl, sprinkle over baking soda. Use your fingers to mix then set aside for 20 minutes, no longer than 30 minutes (can get too tender). Rinse well, pat excess water with paper towels, set aside. Skip the step if using chicken thigh
2. Place cornflour and soy sauce in a bowl. Mix until lump free. Then add remaining Sauce ingredients and stir.
3. Chop choy sum: Trim end off choy sum. Then cut into 7cm (3") pieces. Separate stems from leaves. Use spinach leaves choy sum is not available.
4. Chop carrot - Peel then cut into 3cm (1.3") pieces. Then slice the pieces thinly. Prepare mushrooms of choice accordingly.
5. Heat oil in a wok or skillet over high heat. Add garlic, stir quickly, then add onion, Cook for 1 minute, moving constantly, until onion is starting to wilt.
6. Add chicken, cook for 1 minute until the surface changes from pink to white.
7. Add choy sum stems, carrot and mushrooms. Stir fry for 1 minute.
8. Add choy sum leaves, bean sprouts and Sauce. Stir fry for 1 to 2 minutes until the Sauce thickens to a thick syrup consistency. Vegetables should still be tender/crisp, not soggy and soft.
9. Serve immediately with rice and accompany with prawn crackers and sweet and sour sauce!
Τα Προϊόντα που θα χρειαστείς: