INDIAN BIRYANI RICE (SPICE PASTE) 50g AHG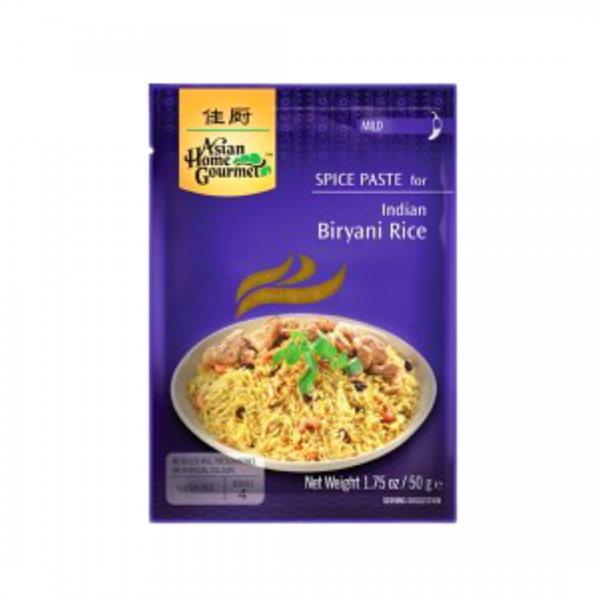 INDIAN BIRYANI RICE (SPICE PASTE) 50g AHG
Stock:

In Stock

Product Code:

16343

Weight:

60.00g

Price / Kg:

39.6€

Unit:

Τεμάχιο
Every Indian meal needs a rice table to tone down and complement hot curry dishes. Biryani is a spicy seasoned rice dish with roast meat. Asian Home Gourmet Indian Biryani Rice Paste contains carefully selected spices such as coriander, ginger, and cumin and gives the rice a delicious spicy bite and a nice golden color. You can also use this sauce with basmati rice and add ingredients to taste like seafood, fish or meat and serve your biryani rice with a fruity mango chutney.
Asian Home Gourmet sauces and marinades do not contain flavor enhancers or artificial coloring and preservatives.
Keep away from direct sunlight and store in cool dry place. Once opened, use immediately.
Cooking Instructions:
1. Marinate meat with yoghurt for 10 minutes. Heat butter or oil in non-stick pan on medium-high heat. Add marinated meat and stir-fry 1 minute, Set aside
2. Put rice, water, turmeric and Spice Paste in non-stick saucepan. Stir-well and bring to boil
3. Add chicken mixture, cover and cook on low heat for 15 minutes. Leave to stand for 10 minutes. Garnish, stir well and serve hot

Cooking Tip: Snow peas, button mushrooms or vegetables of your choice may be used instead of meat.